GST बिल बनाये आसानी से, स्टॉक मैनेज करे फ़टाफ़ट | डाउनलोड करे 7 दिन का फ्री Trial
और पाए 50% OFF
7 days Trail Free
https://wooksoft.com/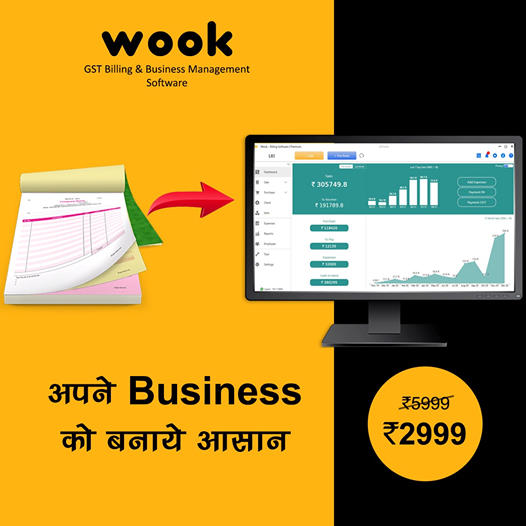 Offer Price : Rs 2999/- Only
Create Professional GST invoices
Create beautiful invoice & print invoices. Share this Professional GST invoice with your client using this best easy to use GST billing & accounting software. Choose from best invoice templates. Also you can add your business logo on your invoices to look more professional. You can also use as point of sale (POS).
Wook billing & Accounting software allows you to generate both GST/Non-GST invoices. You can easily add any number of items with different GST rates in same invoice. Wook comes with multi-size invoice templates which allow you to generate A4, A5, & PoS receipt size invoices. Our software allows managing your credit sales and keeps your overall credit exposure in check which reduces loss and risk. Our billing software generates detailed report of profit and loss.
Wook billing & Accounting software allows you to keep record of your purchases and manage your Stock/inventory. You can also add item barcode or serial number while entering purchase bill. Also you can manage purchase returns. Wook GST & Accounting billing software allows you to manage supplier / vendor accounts easily. Also it helps to manage your Purchase Payments and account adjustments.
Stock/Inventory Management
With wook billing and accounting software, you can easily manage your Stock/ Inventory. You can see your stock status live, Get low-stock alerts and get detailed information about your inventory. With wook you can track complete stock quantity and stock value with detailed information. Wook helps you keep your stock control using its inventory management system while you are doing your billing and purchases.
Our Software helps in managing client accounts and keeps track of payments, adjustments, and sales. It's allows you to set credit limit of customer. Client payment mode like Cash, cheque, Bank Transfer, and Mobile Wallet payments can be added easily. Also previous payments and adjustments can be modified.
Staff/Employee Management
With the help of wook billing & accounting software you can easily manage salary of your employees. You can easily check advance salary, reports and staff details